Wanna know more about Ireland? As a couple who loves Ireland, we know a thing or two about this captivating country, so we thought we'd share some interesting Ireland facts about Ireland with all of you.
In this post, we talk about lots of good things about Ireland, others are simply random facts about Ireland, and others, well, others are some weird Irish facts we had no idea about.
The Emerald Isle is a broad and undulating area with a rugged coast filled with dramatic views. And this little country abundant in green-hued fields, which explains its nickname—the Emerald Isle—is mesmerizing.
There are so many important facts about Ireland that it was difficult to filter so much information. After all, this is a country with a rich history and traditions.
In today's post, we'll talk about lots of stuff about Ireland, from the past to the present.
Ready for some Ireland fun facts? Read on!
Facts About Ireland
Ireland is an island nation located in the northern hemisphere and is part of northern Europe.
The island is divided into two countries—the Republic of Ireland and Northern Ireland.
Most people live in urban areas, about 62% of the population. Because the island is so small, some areas are more densely populated, such as Dublin.
Currently, Ireland has about 178.2 persons per sq mi (68. per sq km). For reference, the United States has around 93 people per sq mi (35.9 sq km).
On a side note, although most people believe Dublin has a massive number of pubs, County Cork has almost a thousand (955), making it the largest concentration in the country.
Ireland facts and information
Official name: Republic of Ireland
Capital: Dublin
Top exports: Pharmaceuticals and organic chemicals
Currency: Euro
Form of government: Parliamentary republic
Official languages: English, Irish
Population: 4,834,000
Area: 27,133 sq mi (70.273 sq km)
Largest city: Dublin
President: Michael D Higgins
Highest mountain: Carrauntoohil 3,405 ft (1.038 m)
National day: March 17th
Time zone: GTM
Ireland's official prefix: +353
Irish life expectancy: 81 years
Government website: www.gov.ie
Flag of Ireland
The flag of Ireland is a rectangular flag with three vertical stripes of the same width in green, white, and orange.

Map of Ireland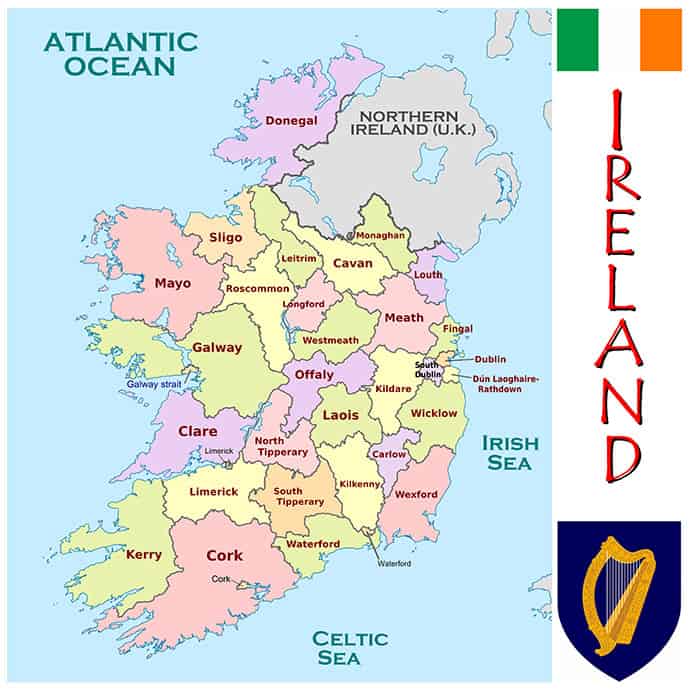 Irish Geography – Quick Facts About Ireland
Ireland is the third-largest island in Europe, only after Great Britain and Iceland.
Ireland is the westernmost point of the Eurasian landmass.
Ireland's area is 27,133 sq mi (70.273 sq km).
Ireland has four provinces, including the Ulster Province which also englobes Northern Ireland.
The Republic of Ireland has 26 counties, while Northern Ireland has four counties.
Ireland Facts for Kids
Irish name: Éire
National symbol: Irish harp facing left
National animal: Red deer, a mammal
Patron saint: St Patrick
Ireland Number Ones
Song Festival
With seven victories, Ireland is the country that has won the most Eurovision Song contests.
Storytellers
Irish people are masters in telling tales and legends, let alone jokes.
Some of the world's most famous writers are Irish, such as Bram Stoker (Dracula), James Joyce (Ulysses), and Oscar Wilde (The Picture of Dorian Gray), all of which were born in the 19th century.
Also, have you heard about the Blarney Stone near Cork? Legend has it that those who kiss it are gifted with eloquence and persuasiveness. Another legend, another tale-teller gift from the Irish.
If you have never been in the company of an enthusiastic Irish telling at least a dozen stories of what s/he saw, experienced, or what her/his friend Paddy did, you have no idea of what you're missing.
Irish people are out of this world not only because they're funny but also because they're ranked among the most generous ones too. Ireland is one of the nations that donate the most to charity.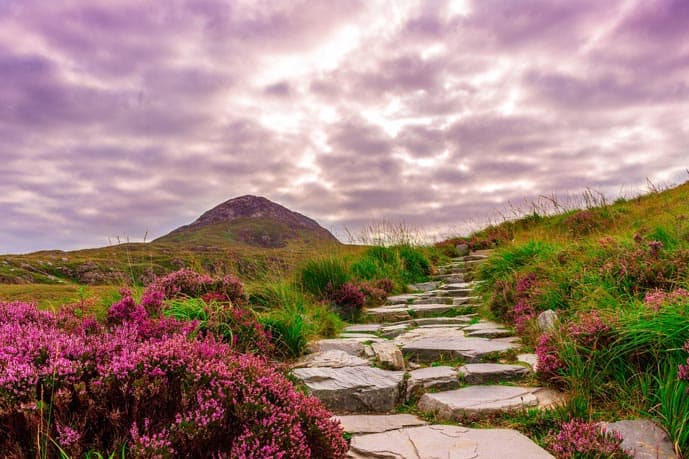 Ireland is Green
Oh, here goes one of my favorites Ireland interesting facts. No other country in the world is as famous as Ireland for having lush green-hued landscapes, right?
The reason for these beautiful greenish views is that Ireland sits in the middle of the Gulf Stream.
This stream brings warm water from Mexico to Ireland's shores, meaning the temperature is usually mild in the Emerald Isle, which is also one of the reasons why it rains so much in Ireland.
Add lots of rainfall to mild temperatures, and you have the lush green fields Ireland is jam-packed with.
Read next: Ultimate Ireland packing list
Famous Irish people
Singers: Andrea Corr, Bono, Niall Horan, and Gary Lightbody.
Actresses: Sarah Bolger, Fionnula Flanagan, Evanna Lynch, and Saoirse Ronan.
Actors: Liam Neeson, Pierce Brosnan, Colin Farrell, Cillian Murphy, Jamie Dornan, Aidan Gillen, and Sam Neill.
Writers: Bram Stoker, Oscar Wilde, C.S. Lewis, and James Joyce.
Others: James Hoban (designer) and Graham Norton (TV host).
Did You Know…? Fun Facts About Ireland
Halloween is derived from Samhain, an Irish festival
One of the cool facts about Ireland is that Samhain inspired Halloween.
Samhain is a Gaelic festival marking the end of the harvest season and the beginning of the winter.
It's celebrated from the evening of October 31st to the evening of November 1st.
The Irish celebrate it on these half days because it not only marks the halfway between the fall equinox and the winter solstice, but it also lasts an exact day according to the Gaelic traditions—a day begins and ends at sunset.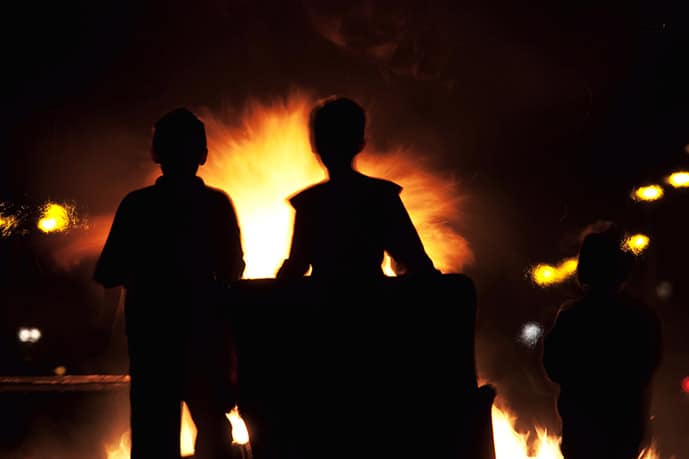 One of the world's oldest books is in Dublin
Dating back to the 9th century, the beautifully decorated Latin book of the first four gospels is in an exhibition in the Trinity's Library.
The manuscripts completed in 800 AD have 680 pages. Nowadays, tourists can now take a sneak peek at two pages of it only—so the book won't get damaged by turning the pages.
Be sure to add the Old Library at the Trinity College to your Ireland travel plans.
Saint Patrick wasn't Irish
Ireland and the world have a day to celebrate Ireland's patron saint, but it turns out he wasn't Irish.
In fact, legend has it he was born either in Scotland or Wales around 386 AD and was held a slave in Ireland before becoming a respected priest in the country.
Interesting Facts About Ireland
More people speak Polish daily than Irish in Ireland
Together with English, Irish is one of the official languages of Ireland. However, while about 39% of the population can speak Irish, only 111,473 people speak it weekly, and 73,803 speak Irish daily.
On the other hand, about 112,676 people speak Polish at home.
Guinness brews 3 million pints a day in Dublin
Guinness is one of the most consumed Irish drinks. Nothing less than 3 million Guinness pints are brewed every day at the St James' Gate Brewery in Dublin.
Not surprisingly, that's the world's biggest stout export and one of the most technologically advanced breweries.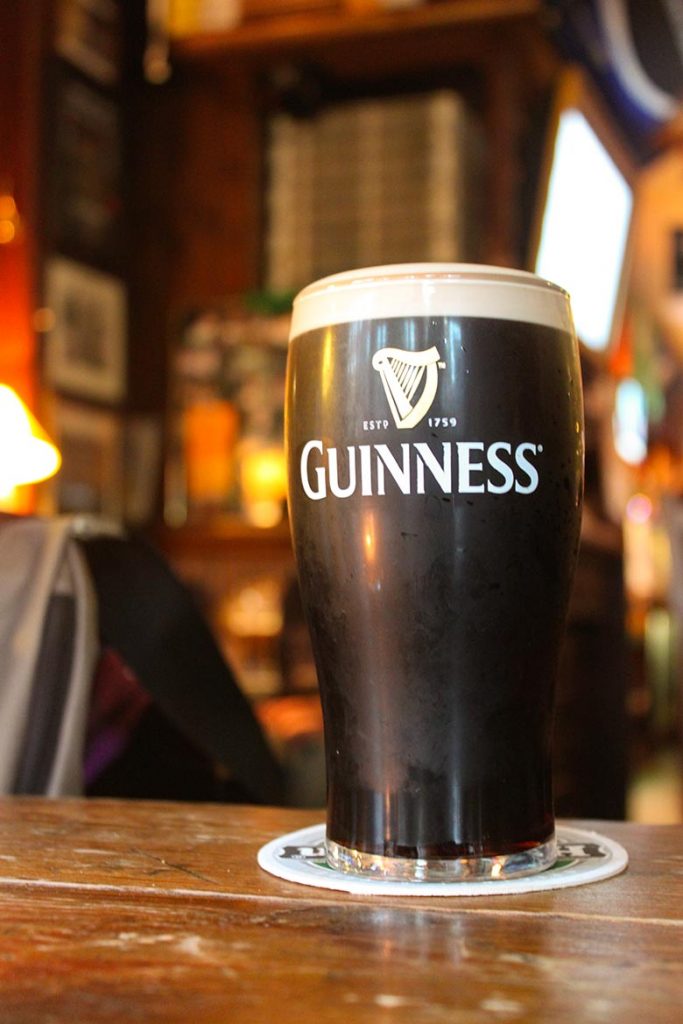 Rotunda Hospital is the oldest maternity in the world
An interesting fact about Ireland is that the maternity hospital Rotunda, located on Parnell Street in Dublin, is the oldest continuously operating maternity hospital in the world.
The hospital started its operations in 1745, and it's estimated that over 300,000 babies were born here.
Nowadays, Rotunda is also a training center affiliated with Trinity College in Dublin.
Irish Achievements
In 1792, James Hoban designed the White House.
In 1809, Sir James Murray created the fluid magnesia that we know as milk of magnesia, an antacid.
In 1844, Francis Rynd invented the hollow needle for syringes.
In 1885, Joseph Haughton invented cream crackers.
In 1897, John Philip Holland created the modern submarine.
In 1928, Cedric Gibbons designed the Oscar statuette.
Funny Irish Facts
The longest Irish word means "photography"
The Irish are no stranger to long words in the Irish language. And one of these long words, actually, the longest Irish word is "Grianghrafadóireachta."
While it looks complicated, this word simply means "photography" in English. Wanna try to pronounce it?
Another fun fact about Ireland: The longest place name is Muckanaghederdauhaulia. This 22 letters word means "pig-marsh between two salt waters" in English. This place is a townland in Galway County—which is one of the best places to visit in Ireland.
Read next: Best places to stay in Galway
The Irish are heavy drinkers
It's not a secret most Irish people drink a lot, but it's a rather funny Irish fact that such a small country consumes more alcohol than most nations on earth.
According to the Telegraph, the Irish are among the top six countries that drink the most beer per person.
The Irish drink about 26 gallons (98.2 liters) of beer per person in a year, which means about 120 million gallons (454 million liters) of beer in total.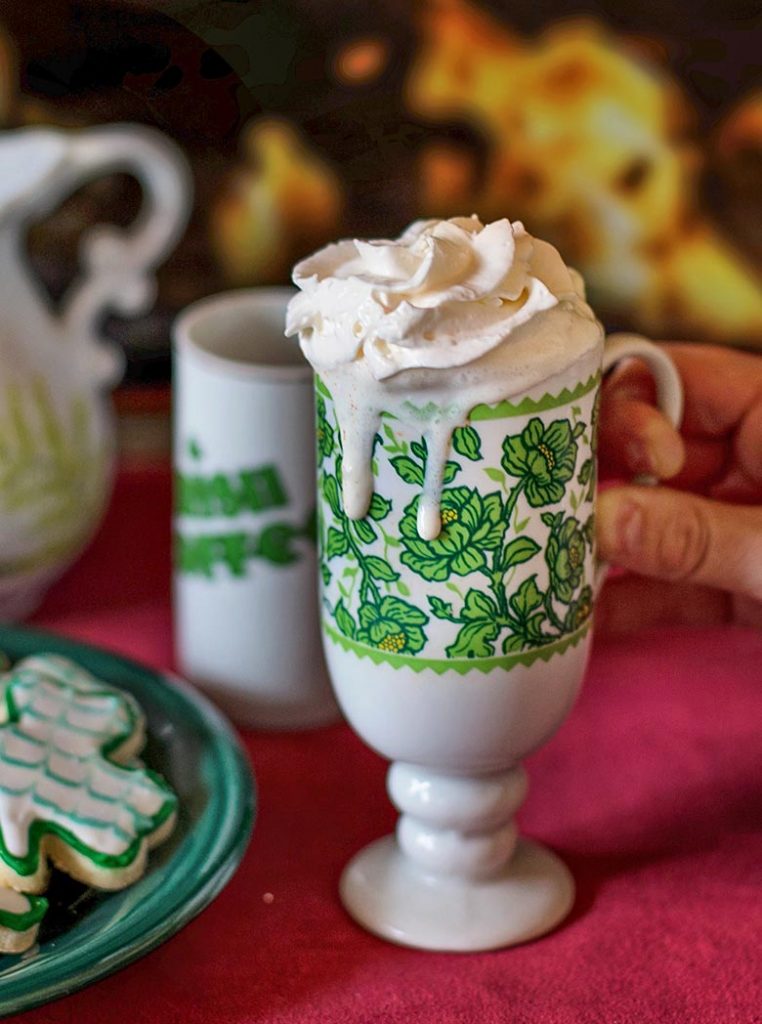 Nigeria consumes more Guinness than Ireland
It's well-known that the United Kingdom drinks more Guinness than the Emerald Isle. Still, the interesting fact about Ireland is that Nigeria also consumes more Guinness than our Irish folks.
In fact, the African country comes in second place, while Ireland comes in third, and Cameroon, also in Africa, comes in fourth.
The beer sold in the African countries is known as Foreign Extra Stout and was formulated in the early 1800s to withstand long ship journeys.
The FES has a 7.5% ABV, meaning it's heavier and stronger than the beer consumed in Ireland.
Interesting Facts Ireland Symbols
The Irish flag was created by French women
This is one of the most interesting Ireland facts.
The flag of a country is its most valuable symbol and national representation. However, the tricolor Irish flag was, in fact, designed by French women sympathetic to the Irish cause.
In 1848, these women gifted Thomas Francis Meagher, an Irish nationalist, and leader of Young Irelanders, with a rectangular flag in the green, white, and orange colors.
The Irish flag is a symbol of peace
While the Irish flag was not designed by an Irish, it still has great significance to the country.
That's because it means peace between the Irish Catholic and Irish Protestants, each being represented by the green and orange, respectively.
The white in the flag represents a lasting truce between both groups.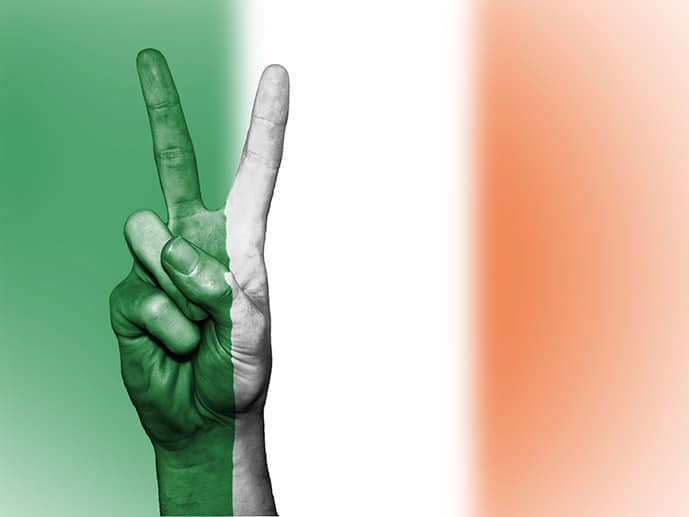 The shamrock is not the national symbol
Contrary to popular belief, the national symbol of Ireland is a harp.
The harp was used in an unofficial flag before the tricolor flag we know today, and later, it became a symbol of the Irish resistance.
The British even prohibited the instrument on the island before Ireland became an independent country.
In the 21st century, the harp is still a symbol of Ireland, but the government must use it facing left because Guinness owns the rights to a harp facing right.
Curiously, Ireland is the only country with a musical instrument as its national symbol.
Read next: Best Day Trips from Dublin
Irish Culture Facts – Food & Drink Identity
Guinness is the national beer
You obviously knew the statement above by now, but maybe you didn't know that almost one in every two pints consumed in Ireland every day is a pint of Guinness.
That's not bad, considering the Irish drink a lot on average.
The Irish people are the second-biggest tea drinkers
Turkey is well-known for consuming a lot of tea, but what country is the second on this list? The United Kingdom? Errr, wrong!
According to Lyons Tea, the average Irish person drinks about 79 gallons (300 liters) of tea per year. That's about 4.8 lbs (2.19kg) of tea per year.
The oldest pub in Europe is located in Ireland
In 2004, Seán's Bar was listed as the oldest pub in Europe by Guinness World Records.
This cozy and lively pub dates back to 900 AD, and it's located in Athlone, a small town between Dublin and Galway that is divided by the River Shannon.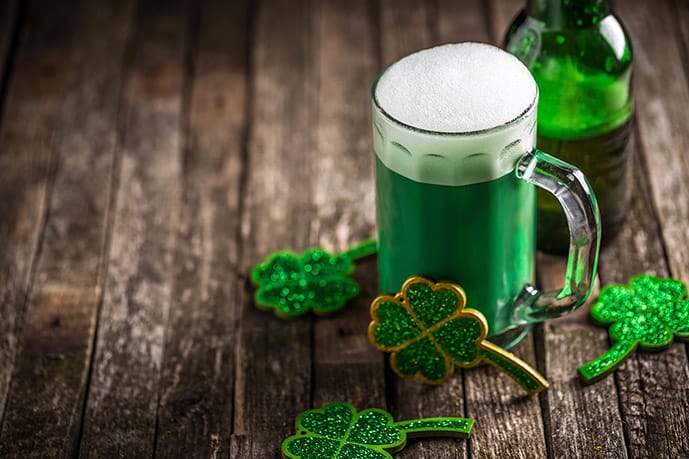 Fun Facts About Ireland Laws
Until 2015, eating porridge or potatoes in Ireland was illegal for anyone outside of the "lower orders" or working class of the country.
Until 1991 in the 20th century, going to the movies on Sundays was illegal in Northern Ireland.
It's illegal to insult anyone's religion in Ireland, and you can get fined €25,000 for it.
Irish Statistics
Ireland has the highest proportion of adults living abroad
According to an OECD study, one-in-six Irish people, or 17.5% of citizens over the age of 15, live overseas.
That's the highest proportion out of all OECD countries.
The report states that poor salaries and high unemployment are the main reasons for this emigration wave.
About 9% of the Irish have red hair
Contrary to popular belief, most Irish people do not have red hair. In fact, only 9% of the Irish population are red-headed.
The majority of them have either brown or blonde hair.
However, this is an interesting Ireland fact because although red locks account for less than 10% of the country's total population, it's still much more than the world average of 2%.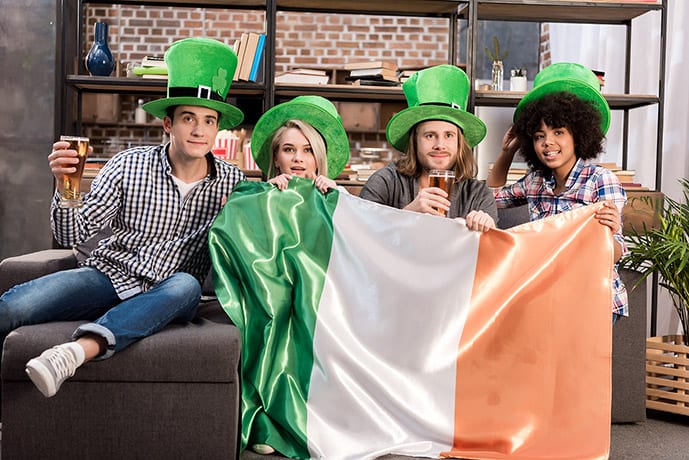 There are over 30,000 castles and ruins in Ireland
It's estimated that Ireland has over 30,000 castles and castle ruins dotted all over the Irish landscape.
That's certainly way too many to count, but you can visit many Irish castles here and there.
Also, you can stay in a castle hotel in Ireland and feel like a member of the royal family.
Further Reading on Ireland
You can learn all about Ireland in our other posts. Feel free to browse our Ireland category.
Ireland is a captivating country abundant in quaint towns, such as Doolin and Cork, or dramatic coastal vistas, such as the Cliffs of Moher.
If you're traveling to the country, don't forget to read our guide on how to get to Downtown from Dublin Airport.
Also, don't forget to get yourself a good backpack for traveling in Europe as well as an anti-theft purse, if you're a woman, of course.
We hope you enjoyed the read!
Did you like this post on facts about Ireland? Then save it to Pinterest or share it with a friend who may like it too.
Don't Forget About Travel Insurance!
Before you leave for Ireland, make sure you have a valid travel insurance policy because accidents happen on the road. We have been paying for Safety Wing travel insurance for a little over a year now, and we happily recommend them to our family and friends.
If you get sick, injured, or have your stuff stolen, you'll be happy to have the ability to pay for your medical bills or replace what was stolen.
Because, for just a couple of dollars a day (depending on how long your policy is for), you're going to get lots of things covered. Be smart and get travel insurance.