Planning a trip to the Emerald Isle and wanna know some fun things to do in Doolin Ireland? You came to the right place.
Many tourists who visit Doolin are usually on the way to the Cliffs of Moher or Galway, but the town is so cozy it deserves much more of your time.
Thankfully, lots of people who go to Doolin don't just take photos and move on, they get involved. They explore the food and culture and participate in the music scene.
That's why the atmosphere is so friendly here, and that's also why you should add it to your Ireland trip plans.
Doolin is located on the western coast of Ireland in County Clare. As mentioned, the town is between the Cliffs and Galway, but there are many other exciting things to see in Doolin.
That's why we decided to write this list with our favorite top attractions in Doolin as well as some nearby.
We'll talk about lots of fun things to do in Doolin Ireland from active to relaxing activities. We'll also give you some tips on where to stay, how to get there, tours to Doolin, and a few essential items for your trip to Ireland.
Wondering what to do in Doolin? Read on!
Where to Stay in Doolin Ireland
If you're planning to spend at least a night in Doolin, we recommend you stay at the Moloney House.
The hosts are extremely friendly, and the rooms are very comfortable. Oh, and the location is also excellent—within a 3-minute walk from Gus O'Connor's Pub (a must-see in Doolin).
We have no complaints about our stay here, only compliments. They also have free parking on site.
Don't miss out! Click here to book your stay.
How to Get to Doolin Ireland?
Doolin is an easy day trip from Dublin located on the western coast of the Emerald Isle, and there are a few easy ways to get to that side of the island.
For instance, you could rent a car. While driving in Ireland might sound intimidating, know that it's much easier than you think.
You do have to pay attention because they drive on the left side of the road and many roads are narrow, but outside of big cities, driving here is pretty easy and advisable.
After all, wouldn't you like to road trip Ireland?
But if driving in Ireland is not for you, there are loads of day tours from Dublin or Galway headed to Doolin.
Alternatively, you could stay in Galway and go on a day tour of the surrounding areas.
Naturally, each one of these tours has different lengths, stops, pros, and cons, but we've selected some tours to Doolin Ireland with great reviews:
How Long Should You Spend in Doolin Ireland?
While this is a teeny tiny town in Ireland, there are lots of fun things to do in Doolin that can keep you busy for days.
If you're visiting the town with a group tour, check the itinerary to know how long they plan to stay in town and what activities in Doolin are included in the tour, if any.
But if you're driving there yourself, you can spend anywhere between a few hours to a few days.
Stop for lunch on the way to the Cliffs of Moher, spend a night so you can have a couple of pints after hiking the coast, or stay for days and enjoy all the natural sites as well as the constructions in or near the town.
One thing is for sure, you won't run out of things to do in Doolin.
Best Things to Do in Doolin
There are enough things to do and see in Doolin, and here are our favorite ones.
1. Indulge in Irish food
Oh, we love the hearty Irish food. Thankfully, Doolin Ireland is filled with excellent pubs and restaurants where you can have delicious meals.
Granted, Doolin is a small village, so there are not that many eateries, but the ones available (at least the ones we tried) are worth stopping by.
For delicious breakfast or brunch, stop by the cozy Ivy Cottage. Weather permitting, sit outside. It's a pleasant area on a sunny day!
If you have a sweet tooth like Bruna, don't miss the Doolin Chocolate Shop. They have an appealing collection of fudge and chocolates. (Duh!)
For a friendly and welcoming atmosphere (and obviously delicious food, too), stop by the Riverside Bistro, a great restaurant in Doolin. We had out-of-this-world seafood pasta and a burger. (Because my husband doesn't eat fish.)
You'll want to stop by the town, even if it's just to grab lunch. The food here is great, and we can guarantee you that eating well is one of the top things to do in Doolin.
Read next: Interesting facts about Ireland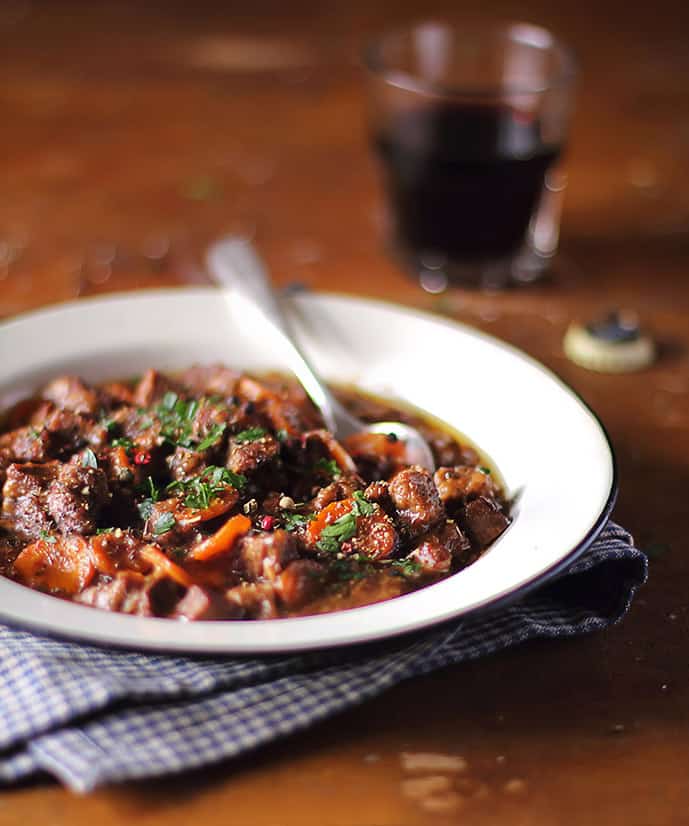 2. Get tipsy at Gus O'Connors
Gus O'Connor's Pub is a classic pub in Doolin Ireland.
Probably all tourists passing by this city stopped by here at some point in their trip and rightly so because the atmosphere is incredibly friendly.
Besides offering great seafood, this traditional Irish pub filled with history serves excellent pints of Guinness.
Oh, and they're famous for serving a mouthwatering Irish stew. If you order it, come back to this post and let us know how it was in the comments!
This pub is one of the best places to go in Doolin for a few drinks.
Read next: Best Irish Drinks and Beverages to Try
3. Enjoy some Irish music
Well, food and beer are not all you can find at Gus O'Connor's Pub. They also have live music to cheer up tourists after indulging in so much food.
Beer, lots of food, and Irish live music. What's not to love?
They claim they've been one of the world's most famous Irish music pubs for decades now, and after you see how busy it can get, you'll agree with them too.
Be sure to arrive early to ensure your seat and have a lively evening in the Irish style.
They have traditional sessions Wednesday-Saturday and Sunday all year round.
This pub is one of the major points of interest in Doolin and you won't regret paying a visit to it.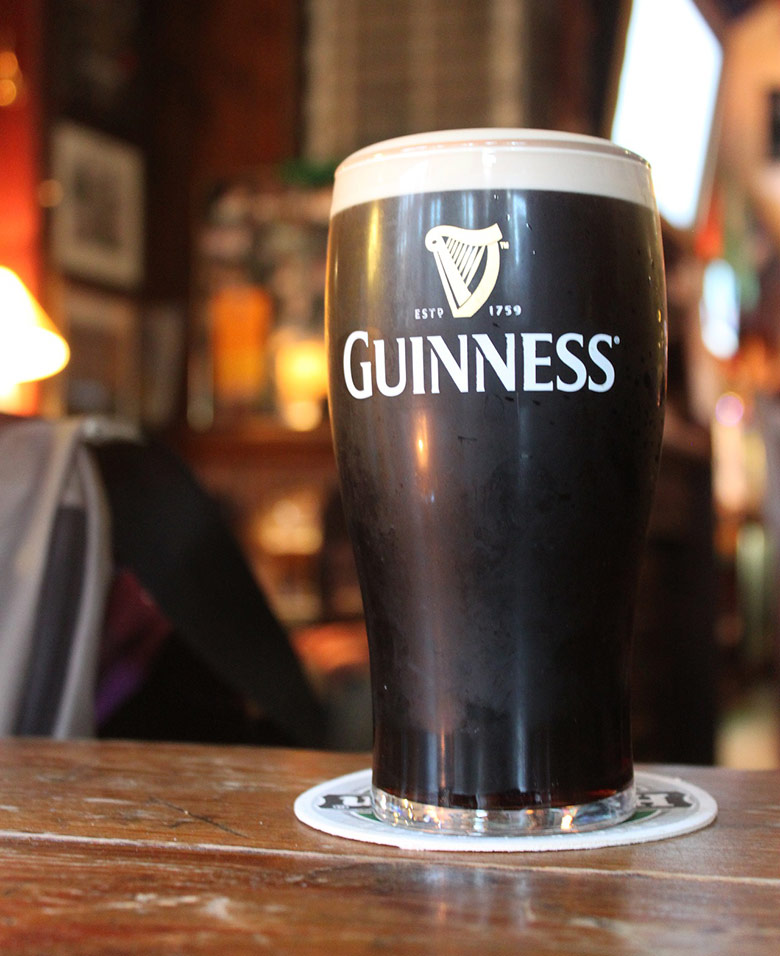 4. Check out the Doonagore Castle
Ireland is filled with legends, tales, and castles, so why not go check out a castle within a 20-minute walk from Doolin center?
It's a short hike with stunning views over the green-hued fields of Doolin Ireland.
Doonagore Castle is a small 16th-century tower castle that was turned into a private holiday home.
For that reason, you can't have access to the castle, but you can photograph this Doolin site as much as you like from the outside. It's a traditional Irish setting.
If staying in a castle is one of the things you wanna do in the Emerald Isle, check out our guide on the best castle hotels in Ireland. Many of them are pretty affordable, considering you're treated like royalty.
Read next: 2 Days in Dublin
5. Hike to the Cliffs of Moher
The Cliffs of Moher is arguably one of the top tourist attractions in Doolin, let alone Ireland.
Considered a UNESCO Global Geopark, the Cliffs of Moher are the result of millions of years of heavy rain and compacted sediments that became solid rock.
Today, the cliffs are one of the best things to do near Doolin. They're 5-mi (8-km) long cliffs and reach 702ft (214m) at their highest point at the O'Brien Tower, near the visitor center.
Besides having breathtaking landscapes and views, the cliffs are home to many marine animals as well as bird species, such as the cute puffins.
If you're visiting Doolin Ireland, for more than a day, know that this is an excellent base to go on day hikes to the Cliffs of Moher.
Many tourists walk the 5mi (8km) trail to the Visitor Center at the cliffs and take a shuttle back. The Doolin coastal walk, as the name says, is a coastal trail from Doolin Ireland to Cliffs of Moher.
Have your camera ready because the views are jaw-dropping. But also, don't get too close to the edges to take any photos. It's not worth your safety!
6. See the Cliffs of Moher from the sea – one of the best things to see in Doolin Village
There is no doubt the Cliffs of Moher are a must-see in Doolin Ireland. And while you can hike there, which we highly recommend, you can also go on a cruise from Doolin.
If you think the cliffs are impressive from above, imagine cruising along them. It's a mesmerizing experience!
You can get an up-close and personal view of the cliffs from the boat leaving Doolin Pier. And it turns out a dolphin often follows the boat. That alone is worth the 1-hour tour.
But thankfully, the cliffs won't let you down either. From the boat, it's easier to spot puffins (March-August) and other birds and naturally, spot seals and whale sharks (April-May).
Weather permitting, be sure to go on a cruise to the Cliffs of Moher.
Don't miss out! Book your tour here.
7. Hike in the Aran Islands
The Aran Islands are in the middle of the Wild Atlantic Way, and you can reach them using the Doolin ferry from Doolin Pier.
Filled with history, the Aran Islands are made up of three islands: Inis Mór (Inishmore), Inis Meain (Inishmaan), and Inis Oírr (Inisheer).
The first one we mentioned is the largest island and the most popular too. Go on one of the several hikes on the island, go cycling, spot wildlife, or spot the historical sites.
For instance, pay a visit to Dun Aonghasa, the largest prehistoric stone forts of the Aran Islands. Alternatively, visit the Worm Hole, where the Redbull Cliff Diving takes place.
Book your ferry to Inishmore today!
8. Learn surfing in Doolin Ireland
We know Ireland isn't a usual surfing spot, but we decided to include something unusual to this list of things to do in Doolin Ireland.
For that reason, if you're traveling to Doolin from February to November, stop by any of the surf schools at Lahinch and they will be more than happy to teach you this sport.
Also, visiting the annual surf festival is a must-do in Doolin. This is a three-day festival with art exhibitions, workshops, competitions, lots of local food, and live music.
Pssst: Less than 20 minutes from Doolin is the Lahinch Beach.
9. Visit the Burren – one of the most mesmerizing things to do in Doolin
While the Cliffs of Moher are famous worldwide, the Burren is a far less popular place that should be on your list of things to do in Doolin Ireland.
The word "Burren" comes from the Irish word "Boíreann" meaning a rocky place, and that's exactly what this place is.
As you enter this national park, you'll feel as if you've left Ireland with its green-hued landscapes. The limestones ahead make up for a dramatic limestone rock landscape.
The Burren region, together with the Cliffs of Moher, besides being one of the most interesting places to visit in Doolin, is also part of the UNESCO Global Geopark for its outstanding geology.
At the park, you can venture on many walking trails where you get to see the geology of this place as well as its flora and fauna.
A visit to the Burren isn't just one of the best things to do in Doolin, but also one of the best things to do in all of Ireland.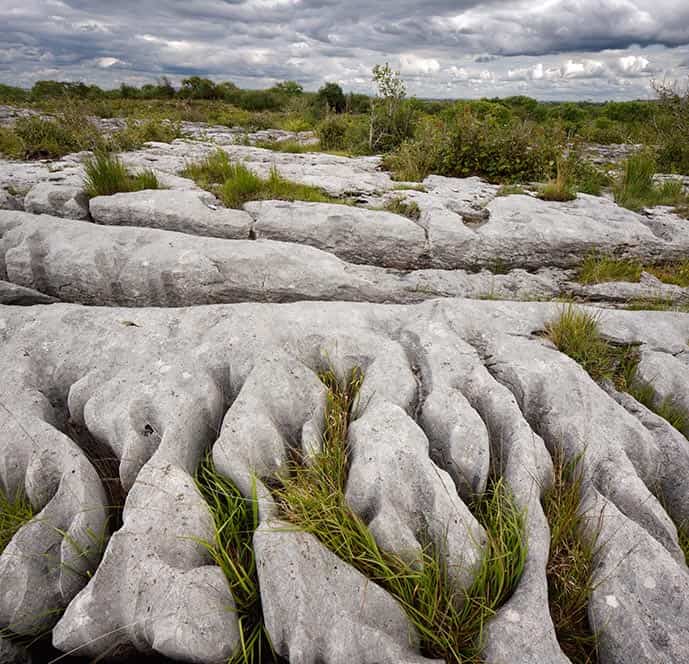 Read next: Irish Gifts and Souvenirs You'll Love
10. Explore the Doolin Cave
Doolin is a small town filled with history and geology. The Cliffs of Moher and the Burren make sure of that. But these sites are not the only impressive tourist attraction of Doolin Ireland. Oh, no.
On the western edge of the Burren, Doolin Cave is not only an interesting place to see in Doolin but also a unique one.
The cave is home to Europe's longest free-hanging stalactite (23ft/7.3m long). The Great Stalactite looks like a chandelier completing the view of this subterranean landscape.
And believe it or not, this massive stalactite was formed from a single drop of water over thousands and thousands of years.
Essential Items You're Forgetting to Pack for Ireland
While Ireland is an unforgettable and captivating country, there's one thing about it that is not so nice—the weather.
It's not a secret the weather in Ireland is unpredictable and it rains more often than we tourists would like.
For that reason, a waterproof case for your smartphone is a must-have item when traveling to Ireland. This universal case is practical, and it gives you peace of mind that your mobile is protected against changes in the weather.
Another item we would suggest adding to your Ireland packing list is a rain jacket for the same reasons mentioned above. We're not a fan of bringing along an umbrella. That's why a fashionable rain jacket is ideal for this situation.
One thing we bought a while back and didn't regret for a second is a reusable water bottle. Now, instead of spending money buying water wherever we go, we simply refill our bottles.
Also, we not only save money but also reduce our waste production and help the planet. It's a win-win situation. This water bottle will be very helpful while hiking in Ireland.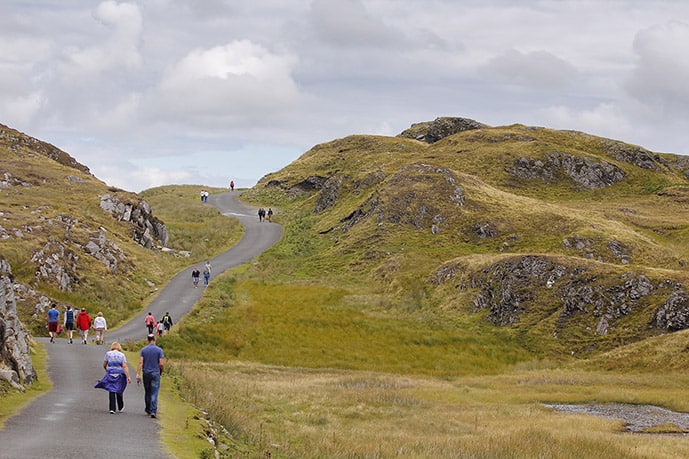 Travel insurance is a travel essential many tourists overlook, but that's something reckless to do, especially when traveling to Ireland, a country where most activities are outdoors. You can get injured while hiking the Cliffs of Moher, for example.
In those situations, you'll want to have travel insurance to save you the hassle of having to take care of things. We have been using Safety Wing for years now, and we've never had issues when making claims.
We recommend them to all of our friends and family. Click here to get a quote.
You will want to bring a backpack or daypack with you to keep some layers of clothes (remember the unpredictable weather), snacks, water bottles, etc.
This daypack from Osprey is functional with many pockets, has a 14" laptop sleeve, and comes in a variety of colors.
This daypack is also reasonably priced, considering Osprey has an almighty guarantee.
Be sure not to forget a travel plug adapter for Ireland as well as a voltage converter because these are different from the US and you don't want to ruin your mobile or not be able to charge it.
Final Words on Things to Do in Doolin Ireland
Whether you're visiting Ireland for a few days or weeks, a visit to this quaint town is a must.
As said, you can either visit Doolin Ireland, for a few hours or days, but we guarantee you won't regret stopping by this traditional Irish town.
Besides, there are so many fun things to do in Doolin that we doubt you'll get bored on your trip to Ireland.
Just learn the culture, indulge in delicious food, and enjoy the dramatic landscapes.
After all, no trip to Ireland is complete without visiting the Cliffs of Moher, so why not stop by a cute tiny town nearby?
We hope this list of things to do in Doolin Ireland will be helpful to you when deciding what to see in Doolin as well as where to go in Doolin.
Happy travels!
Did you like this article about things to do in Doolin Ireland? Then pin it to your Pinterest board or share it with a friend who may enjoy it too.
Don't Forget About Travel Insurance!
Before you leave for Ireland, make sure you have a valid travel insurance policy because accidents happen on the road. We have been paying for Safety Wing travel insurance for a little over a year now, and we happily recommend them to our family and friends.
If you get sick, injured, or have your stuff stolen, you'll be happy to have the ability to pay for your medical bills or replace what was stolen.
Because, for just a couple of dollars a day (depending on how long your policy is for), you're going to get lots of things covered. Be smart and get travel insurance.