Looking for the best day trips from Dublin? You're in luck! In this post, we will talk about the 8 best Dublin excursions to different regions in the Emerald Isle.
As a couple who traveled many times to the country and even ventured on a fantastic Ireland road trip, we've built up this complete list of day trips from Dublin, which combines some major tourist attractions in Ireland and Northern Ireland.
To be honest, Frank was the one driving during our road trip as the narrow Irish roads, together with the fact they ride on the left side, made me very uneasy about driving.
If you would love to see more of the Emerald Isle, but like me, you feel a little intimidated by driving in the country, know that you can see all of these places below (and more!) without having to worry about transportation at all.
That's because we will talk about mesmerizing day tours and trips from Dublin you can take to see the undulating hills, green-hued landscapes, and rugged coast of Ireland.
Looking for the best day trips from Dublin? Read on!
Best Day Trips From Dublin
Here are the best Dublin day trips that you can take not only to learn more about Irish history but also to marvel at the undulating landscapes and breathtaking cliffs of Ireland.
Cliffs of Moher – Our Favorite Day Trip from Dublin!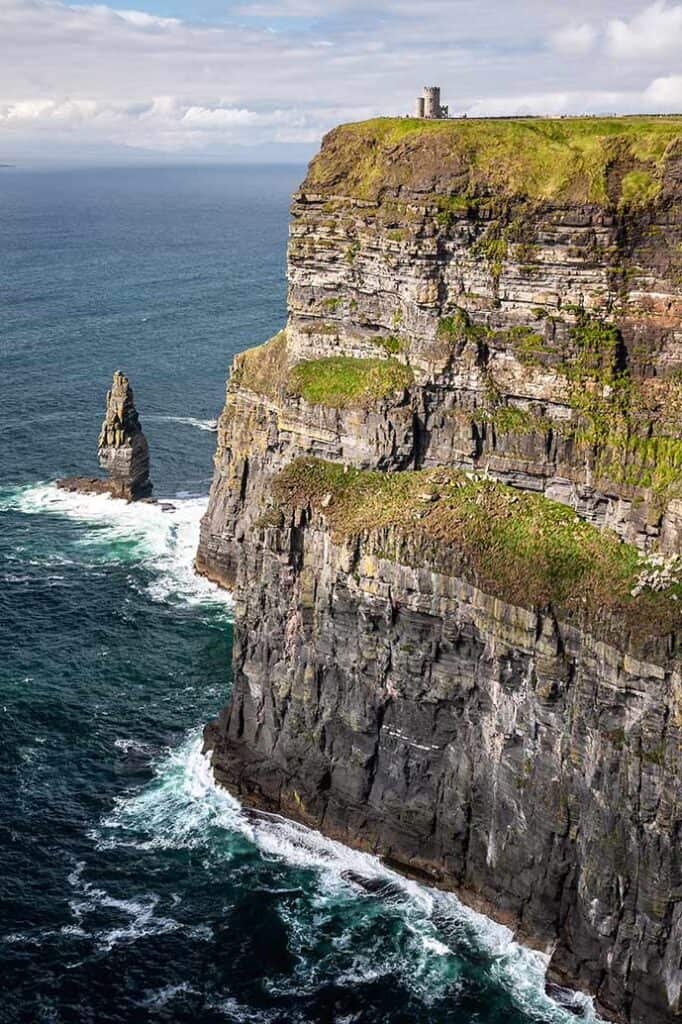 The Cliffs of Moher is by far one of the best places to visit in Ireland.
And rightly so because this place is seriously insane!
Imagine this. You've just arrived at the Cliffs of Moher. You're strolling along the marked path along the cliffs, and you feel a salt-tinged breeze on your skin as you stop for a moment to take in the infinite blue horizon in front of you.
That's such a moment of peace and gratitude! We were in complete awe!
Therefore, it shouldn't come as a surprise to you that the Cliffs of Moher is our favorite day trip from Dublin.
Even if the weather isn't coping, we highly recommend you pay this place a visit as the cliffs are impressive no matter the weather conditions–unless it is too windy, of course!
Most tours to the cliffs make one or two stops before arriving there, and another stop in Doolin for lunch, which is a lovely town. We can't recommend it enough!
Check current prices for the Cliffs of Moher tour
Galway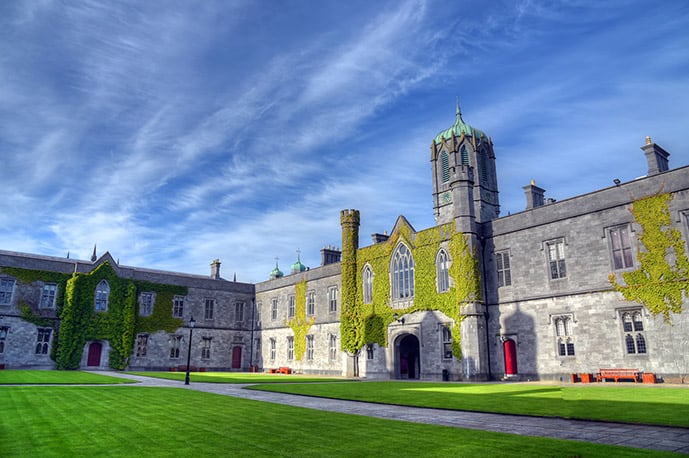 (To the tune of 'Galway Girl'…)
Galway City is one of the most popular day trips from Dublin because the city has this small-town feel to it that is just delightful!
Beyond that, the Galway food and drink scene is thriving at the moment! The city is famous for having excellent seafood too.
And the good news is that several Dublin day tours to Galway also stop at the Cliffs of Moher.
For instance, this tour rides to the cliffs first, then the Burren (smaller cliffs), drives along Galway Bay, and finally gets to Galway.
So if you want to have some gorgeous views, you will want to sit on the left side of the bus.
Also, you will want to have a good night of sleep before this day trip as the bus departs from Dublin before 7 AM. Still, it's totally worth the trip!
Check current prices for the Galway and Cliffs of Moher tour
Ring of Kerry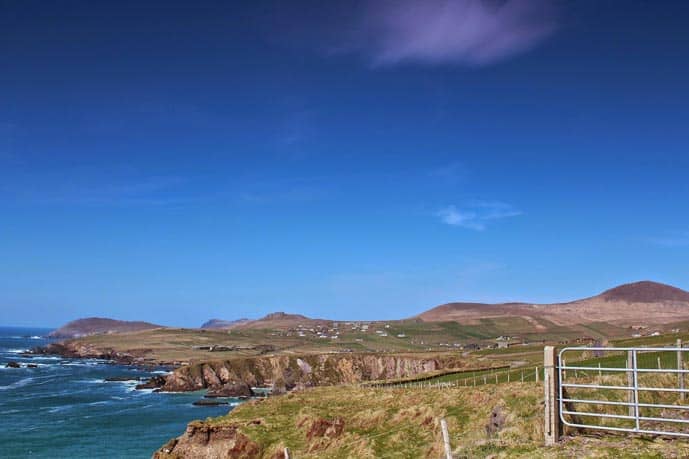 The Ring of Kerry is one of the most famous driving routes in Ireland. Most tourists stay in Killarney and make it their base to discover the region and the ring around the peninsula.
While this is one of the most extended day trips from Dublin by train, which makes up for a very packed day, driving through the Ring of Kerry is still doable.
Some of the landscapes you will spot along the way are the picturesque Killarney National Park, the massive Macgillycuddy Reeks mountain, and plenty of stunning views of the rugged Irish coast and infinite horizon.
Needless to say, this sea-worthy driving route has plenty of photo ops.
Check current prices for the Ring of Kerry trip by train
Blarney Castle + Cork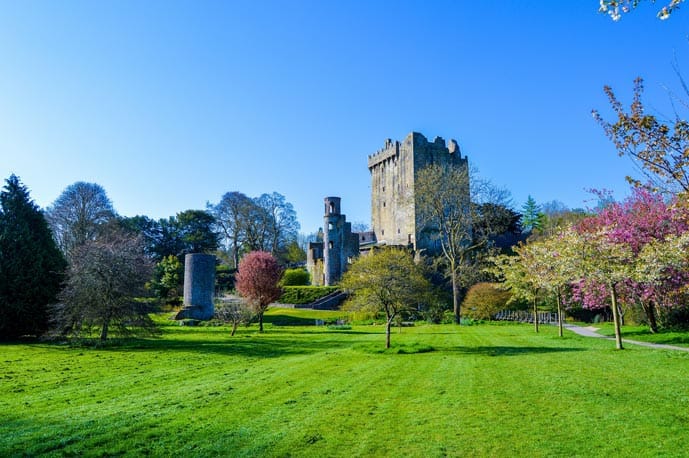 Blarney Castle is a short ride away from Cork City, one of the largest Irish cities.
And while you can easily rent a car yourself and drive your way through Ireland, hiring a local guide with transportation between sites makes things much easier for you, especially if you only have a day to visit a new place.
More importantly, you can not only learn about Irish history but also receive the gift of eloquence.
That's right. In Blarney, you can kiss the Blarney stone near the castle with the same name, and the legend has it that those who kiss the stone receive the gift of the gab.
True or not, the Irish are great storytellers…
Anyway, the castle itself is also a significant tourist attraction in Ireland. Still, the guide also takes you to Rock of Cashel, Cahir Castle, and Cork.
If you want to learn a bit more about Irish culture, this Dublin day trip is perfect for you!
Check current prices for the Blarney Castle + Cork tour tickets
Ireland's Ancient East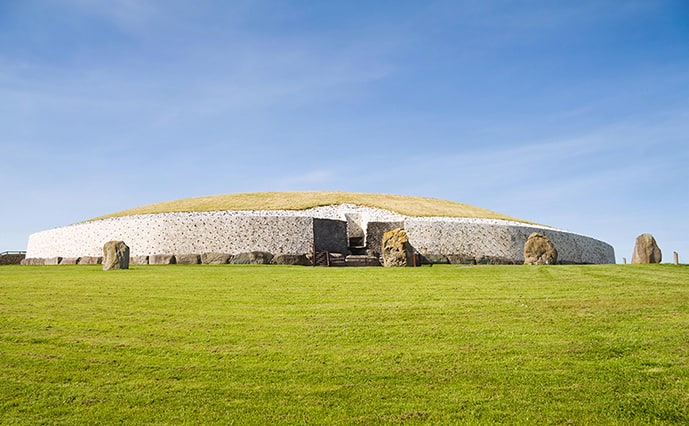 The region just north of the capital is an easy excursion from Dublin City.
Boyne Valley is just a little over a 1-hour drive from the city, but it holds rich history and mystery, and of course, heaps of green landscapes.
Here, you can visit the UNESCO World Heritage Site Newgrange tomb (older than Stonehenge and the Egyptian pyramids!) and the Hill of Tara, where you have a 360-degree view of the verdant Irish countryside.
The Boyne Valley is filled with Irish history, so it is a no-brainer for history buffs.
It's a beautiful place and a lovely day trip from Dublin!
Check current prices for the Irish Ancient East tour tickets
Wicklow, Glendalough, & Kilkenny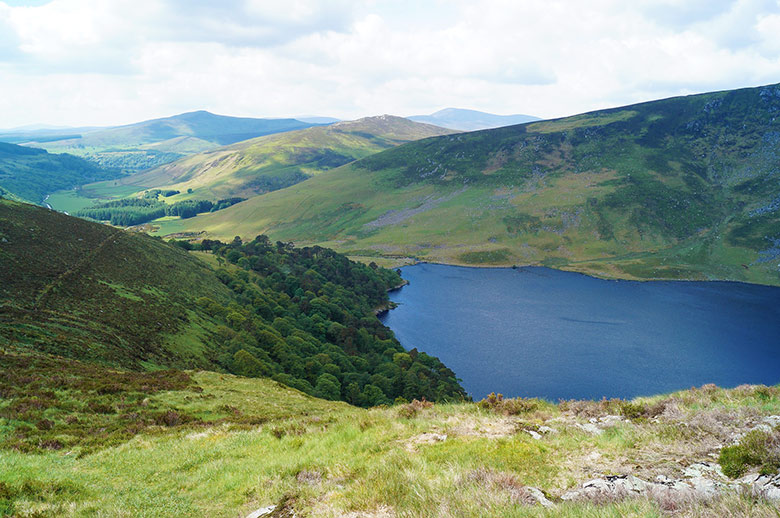 If you're a history lover or are looking for some outdoor activities near Dublin, you will love this Dublin getaway to the southeastern region.
For starters, the Wicklow Mountains National Park is a lovely area where you can take in the green-hued landscapes of Ireland.
One of the highlights of the park is the monastic sites of Glendalough, dating back to the 6th century. These monastic city ruins are hands-down a must-visit.
However, since you're halfway to Kilkenny City, why not stretch your trip a little longer and visit a delightful Irish town too?
Kilkenny is a medieval city with plenty of historical buildings and churches to discover, including the unique pub "Hole in the Wall."
While there, be sure to visit the 12th century Kilkenny Castle.
If you want to learn about Irish history and spend some time outdoors while listening to passionate stories from a local guide, this is the perfect day trip for you!
Check current prices for the Wicklow, Glendalough, & Kilkenny tour
Belfast City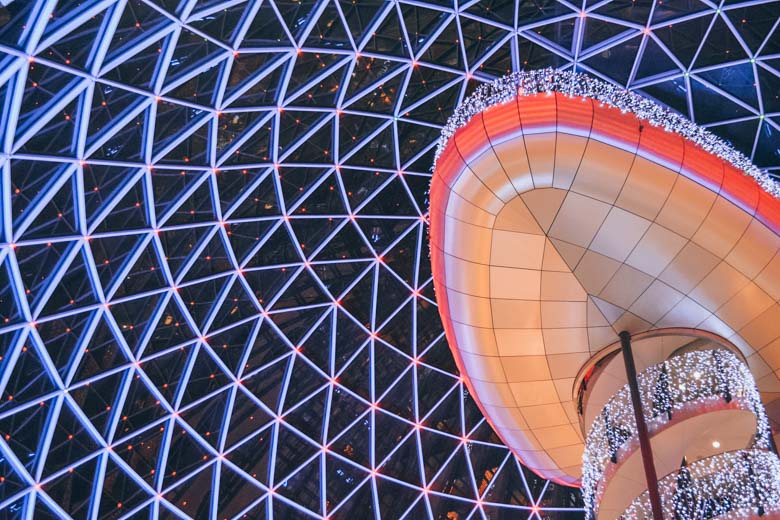 Belfast is Northern Ireland's capital, and it makes up an excellent side trip from Dublin since it is just two hours up the road.
The city is jam-packed with excellent museums and has a fascinating (and dark) political history; therefore, a guided tour to learn about its past is a must.
Still, the highlight of the tour is the Titanic Belfast Experience, where the most massive ship back then was built. Today, the site is transformed into a museum experience to show more about the history and tragic fate of the Titanic.
In short, it is an excellent place to visit near Dublin, mainly because you get to visit another country.
Check current prices for the Belfast day trip
Giant's Causeway and Carrick-a-Rede Rope Bridge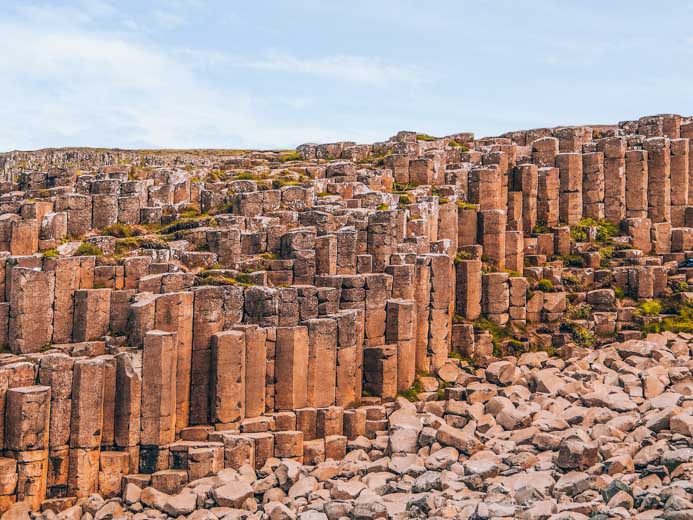 Are you a fan of Game of Thrones? Or of dramatic landscapes and natural wonders? Then this Dublin day tour is right up your alley!
Here, you leave the Irish city right in the morning to explore the mystical regions of Northern Ireland.
That's because you stop at places like the UNESCO World Heritage Site Giants Causeway, where about 40,000 interlocking basalt columns rise from the ground.
You also make a stop at Carrick-a-Rede, a rope bridge set in a fantastic landscape, weather-permitting you can cross it for free!
Besides, you also pass by the Dark Hedges, an 18th-century road of intertwined beech trees that looks like a spine-tinged tunnel. And you have a stop in Belfast, Northern Ireland's capital.
This full-day tour is excellent to see plenty of new sites in another country if you don't have much time!
Check current prices for the Northern Ireland day trip
Ireland Day Trips: Tips and advice
You will want to wear comfortable walking shoes for most Dublin excursions as you might have to walk on uneven paths.
It's very windy in Ireland, especially on the coast, so better pack a handy scarf.
Oh, and besides wind, Ireland sees a significant amount of rainfall too. Therefore, you will want to protect your smartphone with a waterproof case. It is one of the best investments we have made as it is also perfect for beach vacations!
In line with the point above, be sure to add a rain jacket to your Ireland packing list or an umbrella if you prefer.
Dublin Travel Resources
Excited about your trip to Dublin yet? We can imagine!
In fact, we want you to have a fantastic time in Ireland, and we wrote handy guides to help you with that.
Since you will be in Dublin, you might want to read our post about getting to the city center from the airport.
As for itineraries, we have a few options that might interest you:
One day in Dublin: This is a quick guide to seeing the major attractions in the city as well as enjoying the nightlife in town.
2 days in Dublin: This guide is for those travelers who have a little more room in their schedule to discover the Irish capital.
While we talked about the best day trips in Ireland and beyond, you will want to read our guide to the best day tours from Dublin, the capital city, if you're unsure what tour suits your needs best.
It's a comparison of what they offer and what you can expect in terms of sights, transportation, and group sizes.
And if you haven't booked your accommodation yet, we highly recommend you do so as the Emerald Isle is an expensive country, and planning your trip to Ireland ahead might save you money!
We wrote a detailed guide on where to stay in Dublin for different budgets and interests. Here, we talk about the best areas to stay in the city.
Still, if you want to splurge for a day (you deserve it!), you might consider spending a night in a castle hotel. There's one castle hotel near Dublin, Clontarf, and it is absolutely perfect! We talk about it in the link above.
This castle is a must, especially if you're traveling with your significant other, from affordable rates to a great location (near the city) to the facilities.
And just for fun, take a look at these interesting facts about Ireland!
That's it for today, gals and guys. Happy travels!
Did you like this post about Dublin day trips? Then save it to Pinterest or share it with someone who might like it too!
Don't Forget About Travel Insurance!
Before you leave for Ireland, make sure you have a valid travel insurance policy because accidents happen on the road. We have been paying for Safety Wing travel insurance for a little over a year now, and we happily recommend them to our family and friends.
If you get sick, injured, or have your stuff stolen, you'll be happy to have the ability to pay for your medical bills or replace what was stolen.
Because, for just a couple of dollars a day (depending on how long your policy is for), you're going to get lots of things covered. Be smart and get travel insurance.